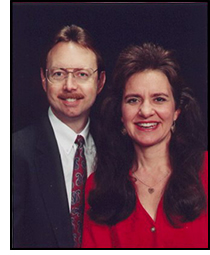 Dale W. Leander is a Bible teacher, radio broadcaster, and author. He was raised the son of a pastor, but began a successful career in business. Then in 1980, he had a life-changing experience with Jesus where the Lord dramatically called Dale into the ministry of God's Word.
Since that time, Dale has ministered in several states in a variety of capacities such as Bible school teaching, pastoral ministry, media ministry, church administration, ministry consulting, and missions. Dale's teachings are practical, clear revelations from the Bible delivered with anointing and insight. He has been married to his wife Judi since 1983, and they have four children.
FINANCIAL PARTNERSHIP: You can help us continue ministering and making many of our resources available without charge by sending a monthly or one time offering to: Words of Life, P.O. Box 701045, Tulsa, OK, 74170. To give by credit card, you may call and leave a secure message at 1(800) GET-WORD. To order ministry materials or give by credit card, you can also visit our web site, www.WordsOfLife.org.